Become a VIP Member
💰 Most aggressive & exclusive sales
😲 First dibbs on product drops
👇 Sign Up Below 👇
American-Owned Glass Brand & Online Smoke Shop
Freeze Pipe is a collision of engineering and glass blowing dedicated to making the smoothest smoking glass pipes, bubblers, bongs and dab rigs. Our unique line of freezable pieces are designed, tested and proven to eliminate harsh smoke and reduce coughing. The secret is elite percolators combined with freezable glycerin coils that cool smoke down by over 300 degrees.
Glycerin is a non-toxic gel-like liquid commonly found in food and sweeteners. It freezes quicker and stays frozen longer than water, not to mention it's 100% organic! 
🥶 Enjoy Bigger Clouds Without The Throat Burn, Chest Pain Or Coughing Attacks
Highly efficient and very cold, inhale and relax as our combo of percolators and cooling power do all the heavy lifting
❄ Glycerin Technology 6 Years In The Making
What started as a personal obsession turned into a calling. We've perfected the art of the glycerin coil because the best way to fight fire is with ice
💪 Durable Glass
We only make glass pipes and bongs that we would want and actually do use. And that starts with using the strongest and highest quality borosilicate glass in every piece
⌛ 1-hour Freeze Is All You Need
But it's okay to freeze the chambers for longer. Days, weeks, doesn't matter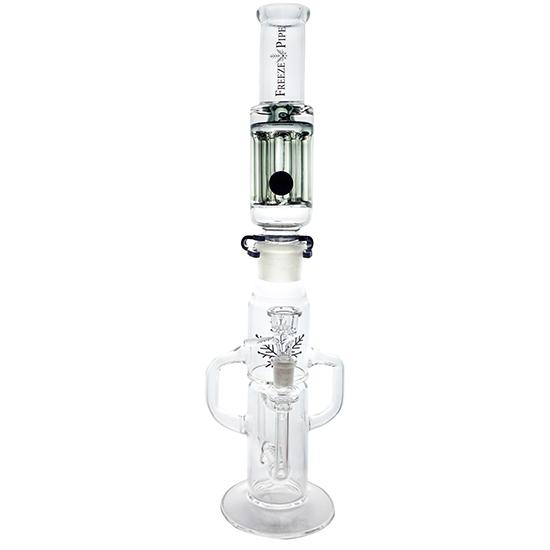 Better Than A Bong? This Recycler Will Change How You Smoke
Recyclers just hit different....And that's because they're designed different. Recyclers use a continuous circulation of water and smoke that creates unprecedented levels of filtration.  In fact, the longer you pull the more filtered your hit becomes!
The Freeze Pipe Recycler is arguably the smoothest hitting piece we offer and is sure to impress.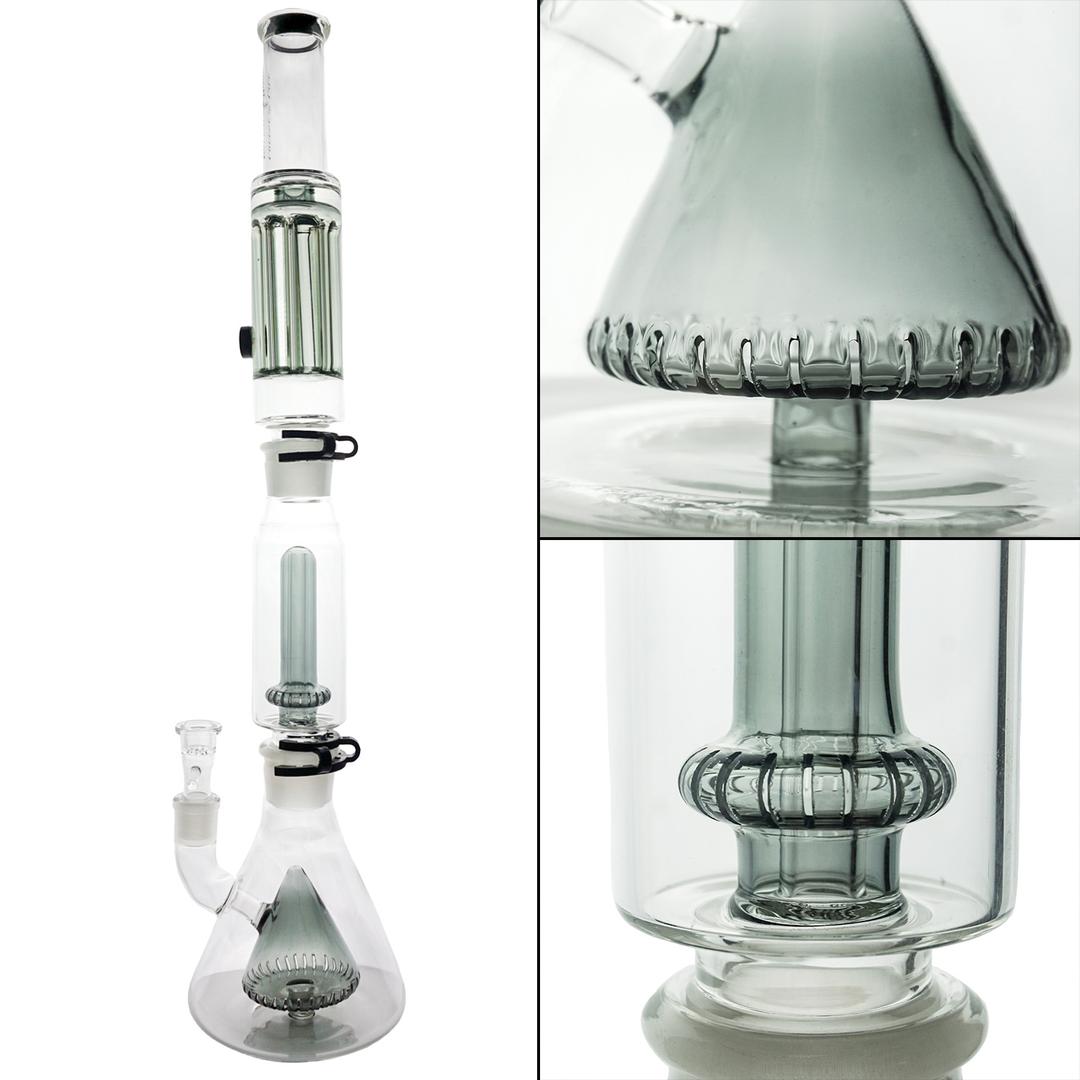 The King Of Cold: The Freeze Pipe Bong Dual
Max Cooling & Filtration
Now with a better base, added UFO perc and our largest glycerin coil, the new Bong Dual is your new go-to. Combines three levels of filtration and cooling power to ensure a smooth delivery with zero burn.
Bigger Hits, Less Coughing
Easy on the lungs with the little cough. We frequently hear from our customers with respiratory  illnesses that this is their favorite piece. Not only are they able to take larger hits, but the experience of consuming cannabis is reported as more enjoyable. 
Zero drag 
We tested every type of perc imaginable and put together our favorite combo. Many larger bongs become encumbered with the wrong percs. This is where the Bong Dual shines. Outstanding air-flow you'll notice from the first pull. 
Online Smoke Shop Advantages
Physicals smoke shops are the cog in the wheel between bong brand and consumer. Smoke shops buy products from distributors, who buy from the manufacturer. All these middlemen increases costs  that get passed on to the consumer and make superior smoking technology unaffordable. 
Because Freeze Pipe is the manufacturer and smoke shop we eliminate middlemen and can offer better pricing than you'll find anywhere else. Shipping is always fast and free and arrives in discreet packaging. No matter what you're into or your budget there's a Freeze Pipe piece for you!  We make everything from pipes to dab rigs with a ton of accessories to complete your smoking experience. Come see why thousands of satisfied customers choose Freeze Pipe and rest assured every communication you have with us is handled by a highly trained Freeze Pipe employee.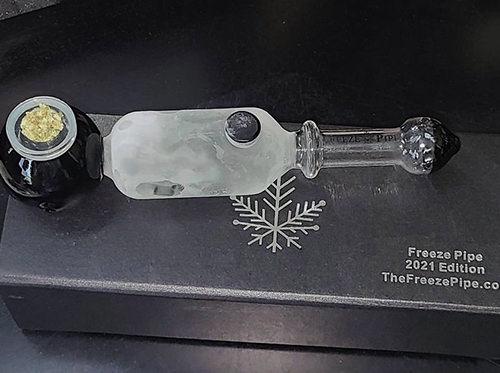 Organic Glycerin Is The Secret For Colder-Than-Ice Hits
Commonly found in food and sweeteners, glycerin is a non-toxic fatty gel that freezes quicker than water and stays frozen longer. Glycerin doesn't expand and contract like water does so there's no added pressure on the glass. 
The Problem With Putting Ice In Your Bong
Death, taxes, and ice cubes melting in your bong will screw up how it functions. Whether this was Benjamin Franklin's exact quote has yet to be confirmed. But what has been confirmed is melting ice cubes raises water levels in the bong's base. This increase in water ruins the performance of the piece, making it harder to hit and overall causing a huge pain in the ass. 
 A Couple Ice Cubes Just Doesn't Cut It
Only a small percentage of your smoke physically interacts with ice cubes. And the bigger issue is how short this interaction really is, which is about as long as it takes you to inhale. 
Our glycerin chambers are designed to improve how much and how long your smoke is chilled for. Upon entering an icy glycerin chamber smoke is run through a series of loops which extends the amount of time it's chilled for. This prolonged journey is so effective it reduces the smoke's temperature by 300 degrees!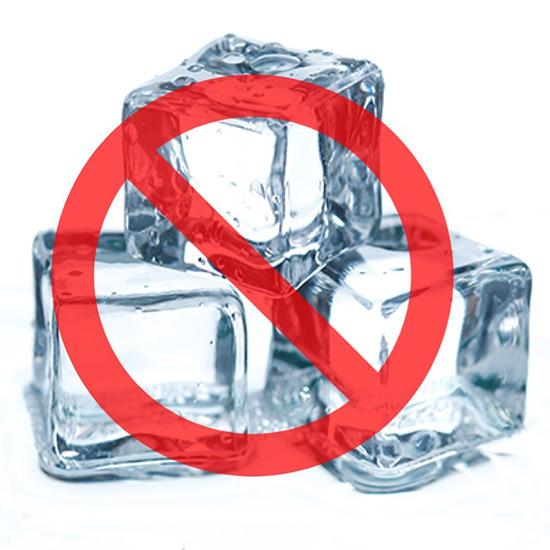 All content at Freeze Pipe is for educational, tobacco, herbs and entertainment purposes ONLY. This website is for mature audiences only. We strongly encourage those users under 21 years of age to EXIT this site immediately. We do not condone the use of illegal substances.
The Website is provided on an "as is" and "as available" basis. 
Freeze Pipe makes no representations or endorsement about the
suitability, timeliness or accuracy of the Website.
All companies, pipes, wraps, uncategorized products, service providers and other entities referenced, products, names, labels etc within theFreezepipe.com are intended for legal tobacco/smoking mixture, entertainment, educational and to be used by adults (21 years or older) only. Any other use of such products, by minors or for use with controlled substances is prohibited and may constitute a violation of International, Federal, State, and/or Local laws