Table of Contents:
Most people know the term bong, but the world of smoking is heavily nuanced with its own terms and jargon. We're here to walk you through some of the basics.
Ash Catcher: A glass accessory used to prevent ash and resin buildup in your main water pipe. It slots into the stem of your water pipe where the bowl would usually go and has a new joint for a bowl to slot into. Some ash catcher designs add another percolator to further diffuse your smoke. 
Banger: A small dish that attaches to the joint of a dab rig that can be heated to high temperatures and used to vaporize concentrates.
Beaker Bong: A water pipe base design that uses the conical shape of an Erlenmeyer flask or beaker in the base.
Bowl: The glass accessory used to hold your herb that slots into the downstem of a waterpipe.
Bubbler:A glass smoking device that combines the water diffusion and filtration of a bong/water pipe with the form factor of a hand pipe. 
Carb Cap:A glass accessory used to direct airflow into a quartz banger to help promote the vaporization of concentrates.
Cashed:This is a term used to describe a bowlof herb that has been fully smoked and is now just ash.
Crumble:A form of concentrate with a waxy crumbly texture. This form of concentrate is dabbable. 
Dab Rig:A glass water pipe specifically designed to smoke concentrates out of. These pieces are usually designed to minimize internal surface area so your concentrate vapor will get to your lungs efficiently instead of condensing in the piece and building up reclaim. 
Dabber:a metal or glass tool used to "dab" concentrates in a banger or E-Nail.
Dabs:One of the most common terms for concentrates. 
Downstem:The tube that the bowl slots into which then slots into a water pipe. 
Glycerin Coil: An enclosed chamber filled with glycerin with a tube running through the middle for smoke to pass through. The surface area of the coil running through the middle allows for maximum surface area interaction between the chilled glycerin and the smoke to cool it significantly as it passes through.
Gravity Bong: A type of smoking device that uses air pressure and water to draw smoke which can then be inhaled. 
Hash:A form of concentrate made by isolating the trichomes/resin glands of cannabis. It is similar in nature to kief, but more refined. This concentrate form is not able to be dabbed. 
Hit: The process of drawing smoke from a smoking device.
Kief: Trichomes and crystals physically sifted and separated from .
Nail: A part of a dab rig that inserts into the water pipe so it can be heated with a torch. When heated, the nail will turn the substance you placed on it to vapor, which you can inhale. This was the precursor to bangers and e-nails.
Nectar Collector: These are smoking devices used specifically for concentrates. They are designed like a straw with a titanium tip on one side, a mouthpiece on the other side and oftentimes a water percolation chamber in the middle.
Perc:The slang term for percolator, which is the apparatus inside of a water pipe that diffuses bubbles into the water. 
Piece: The slang term for any glass smoking device.
Recycler:A unique water pipe design that utilizes two chambers to move water and smoke in a circular cycle. They are typically preferred for concentrates because they allow for greater percolation with less internal surface area for precious concentrate vapor to condense on in the form of reclaim. 
Rosin:A form of concentrate that is produced by squeezing herbs between two heated plates. It is similar in consistency to shatter, but preferred by some because it is produced without solvents.
Shatter:A form of concentrate produced through using butane as a solvent for extraction. It is also known as BHO and is one of the most commonly dabbed concentrate forms.
Straight Tube:A water pipe designed with straight sides as opposed to a beaker shape.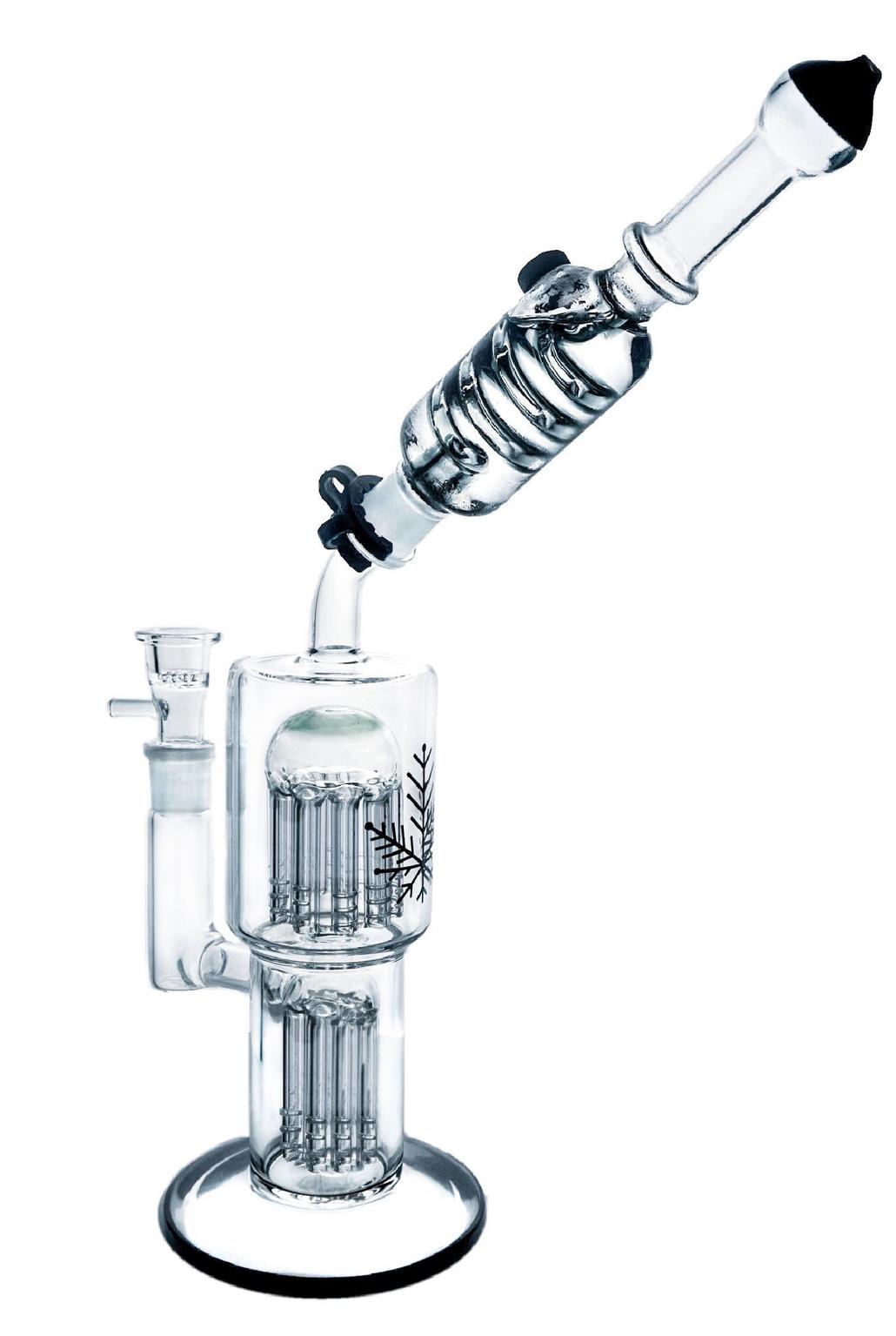 Bubbler XL
With a wider base than our bubbler, 18 tree arms, and 2 water chambers, this piece spares no expense when it comes to a smooth, tasty hits.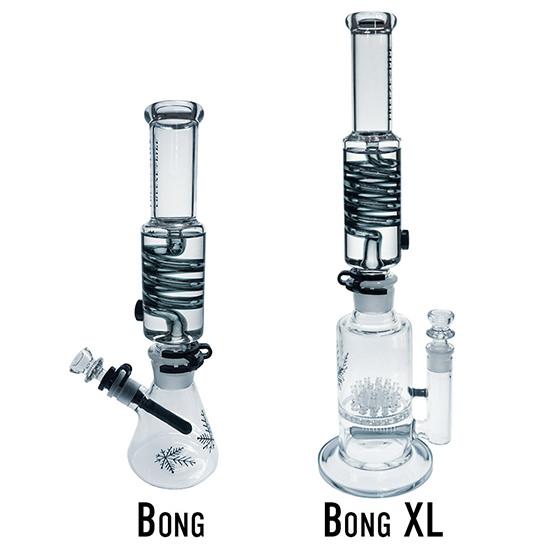 Bong & Bong XL
Ergonomic bong that'll be your new go-to and it's big brother for those who like to party.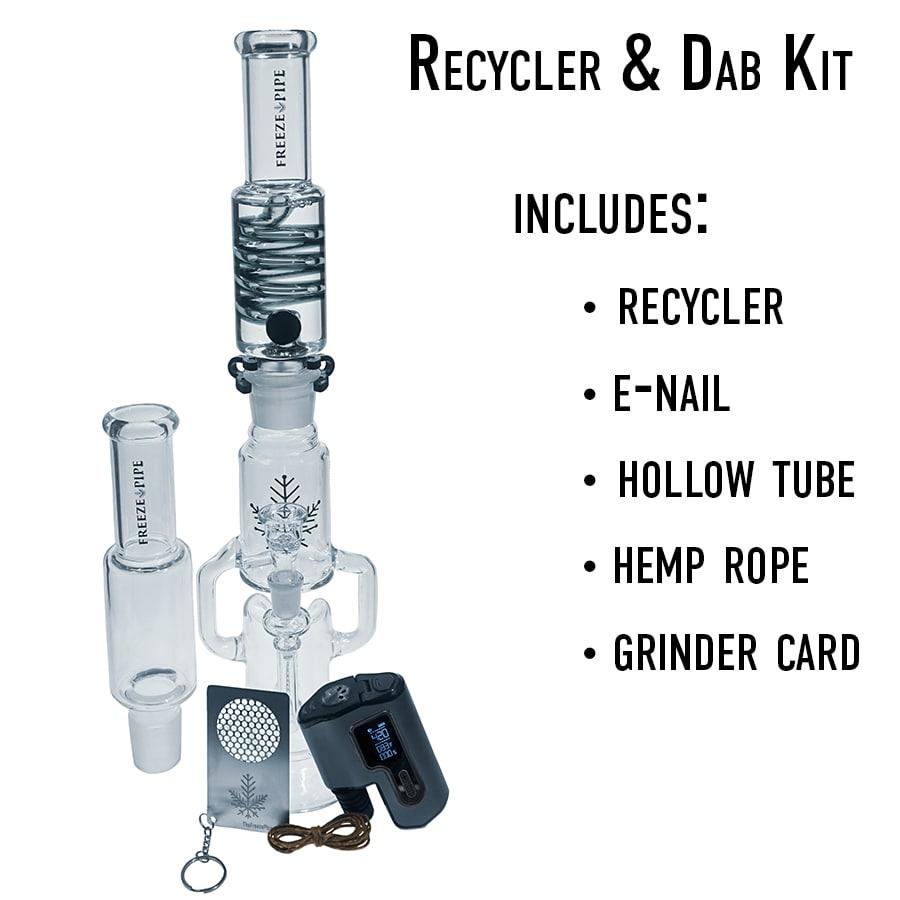 Recycler Dab Kit
Includes the E-Nail and other accessories, recyclers are exceptional for dabs due to their air flow and constant water filtration.