Table of Contents
Dabbing with concentrates changed the world of smoking by making the process cleaner and more efficient. 
If you don't know what dabs are, they are essentially the THC laden trichomes and other cannabinoids removed from the rest of the cannabis plant matter. This forms a waxy substance that can take on a variety of different consistencies, composed of anywhere from 40%-99% THC. It's easy to see why this is considered a cleaner and more efficient form of smoking that is steadily growing in popularity. If you don't have access to dabs or concentrates you can learn how to make solventless dabs.
The steps involved with smoking dabs are generally based around bangers and butane torches which are not exactly easy or friendly to newcomers. This led to the development of Enails, an electronic solution that takes the blowtorch out of the dabbing process and replaces it with an electronic heating element and a power source. Our new Enail has changed the process yet again, making it easier than ever to dab and the friendliest possible setup to use for experienced pros and newcomers alike. We've done away with the wires, cords, and exposed heating elements of the past, replacing them with a compact, fully enclosed device that fits in any glass water pipe you may have whether it takes a 14mm or 18mm bowl and a screen that displays all of the pertinent temperature information.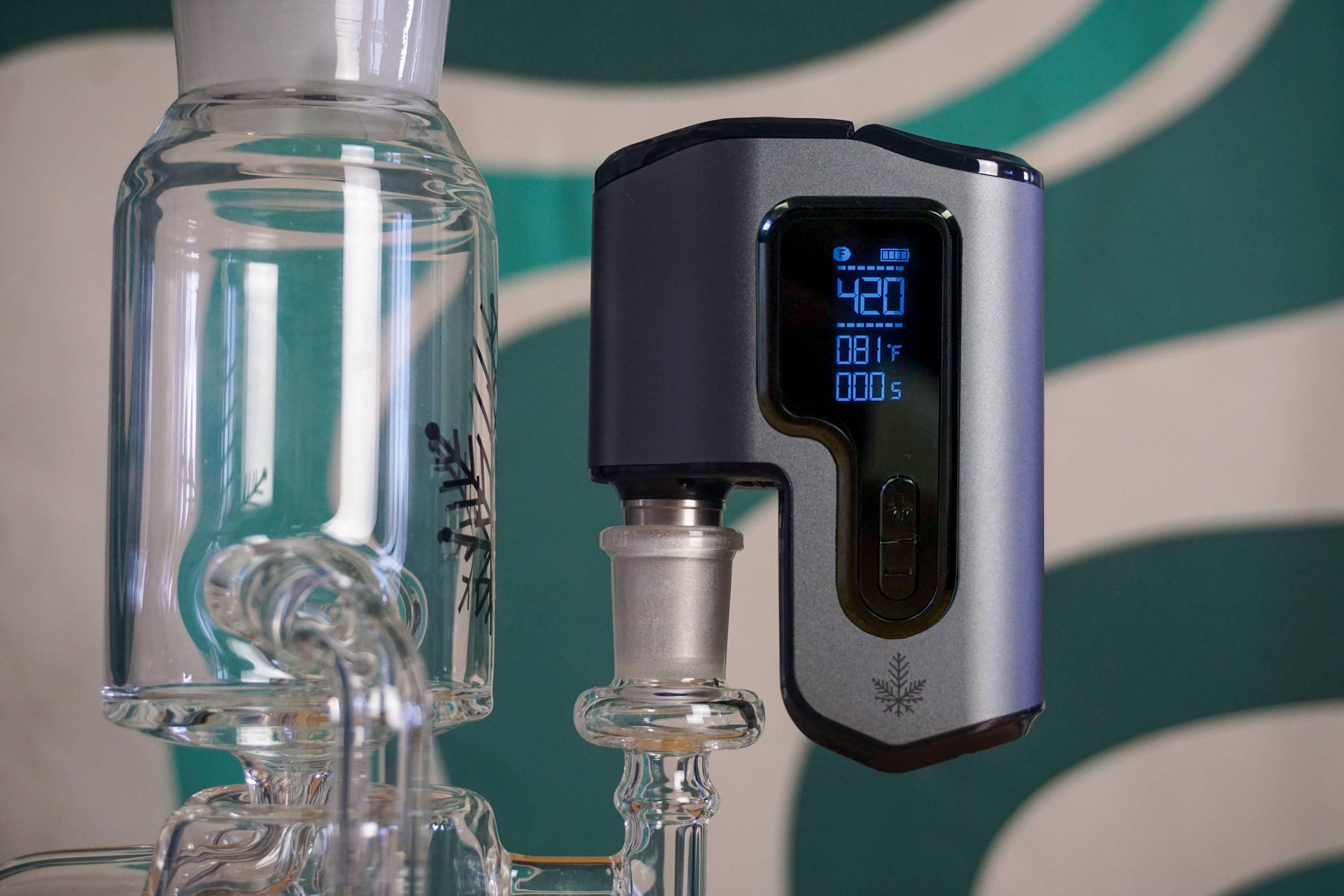 To begin using the our Enail, scoop up your desired amount of concentrate using the dabber or dab tool. If you are just starting out, we recommend beginning with a very small amount and working your way up to get a feel for your personal tolerance levels. Being so concentrated, a little truly goes a long way. 
You can choose to cold start your dab by loading it into the quartz chamber before you begin the heating process, or you can wait for the preheating to finish and load the dab into the chamber once it has reached operating temperature. 
Turn on the device by clicking the power button 5 times in succession. 
Temperature Control for Dabs
Our Enail makes selecting your desired operating temperature easy with + and - buttons directly below the screen. The lowest you can keep the temperature while still producing thick smoke is usually considered the best for flavor and quality. The exact temperature will depend on the type and consistency of your concentrate. 
Once you have your temperature set, hold down the power button for 3 seconds and your Enail will vibrate to let you know it has started preheating. The current temperature is the middle number displayed on the screen and you can watch it rise to your pre-set temperature.
Once it reaches the specified temperature, if you cold started your dab, you are ready to begin hitting your water pipe and enjoying your dab. If you are hot loading, use your dabber/dab tool to load your concentrates into the quartz chamber, "dabbing" it on the sides and bottom of the quartz until it fully melts off of your tool and begins to vaporize. Close the lid and begin inhaling through the pipe. The Enail will remain at operating temperature for 60 seconds to allow you ample time to hit and inhale the dab vapors.
Enails and Other Dab Products
That's all there is to it! While many people confuse terminology, Freeze Pipe's Enail offers the most advantages compared to Erigs and other solutions. Our Enail makes it easy for newer smokers to get into concentrates and allows a seasoned smoker to get the job done more efficiently than ever with intuitive temperature control and fully integrated features in one wireless unit.
---
Freeze Pipe - The Coldest Hits & The Smoothest Rips