Picking The Right Freeze Pipe
Freeze Pipe Bong $169.95
The tried and true bong option from Freeze Pipe. Featuring our classic inline + sprinkler perc combo, this bong is an awesome everyday piece. You'll experience massive hits without the chest or throat burn, and the word that comes to mind when describing our entry Bong is value. It vastly outshines any glass bongs priced at $170 and beyond. Measuring 16" tall this ergonomic bong fits comfortably in your hands whether smoking on the couch or on the go. It's thick borosilicate glass adds a luxurious but not overpowering weight. Easy to take care of, we recommend this piece for solo or small group sessions. We've been selling this bong since Freeze Pipe started and it's a phenomenal piece for any level smoker.
Stats:
$169.95
Inline + Sprinkler perc
16" tall
90 degree joint
18mm bowl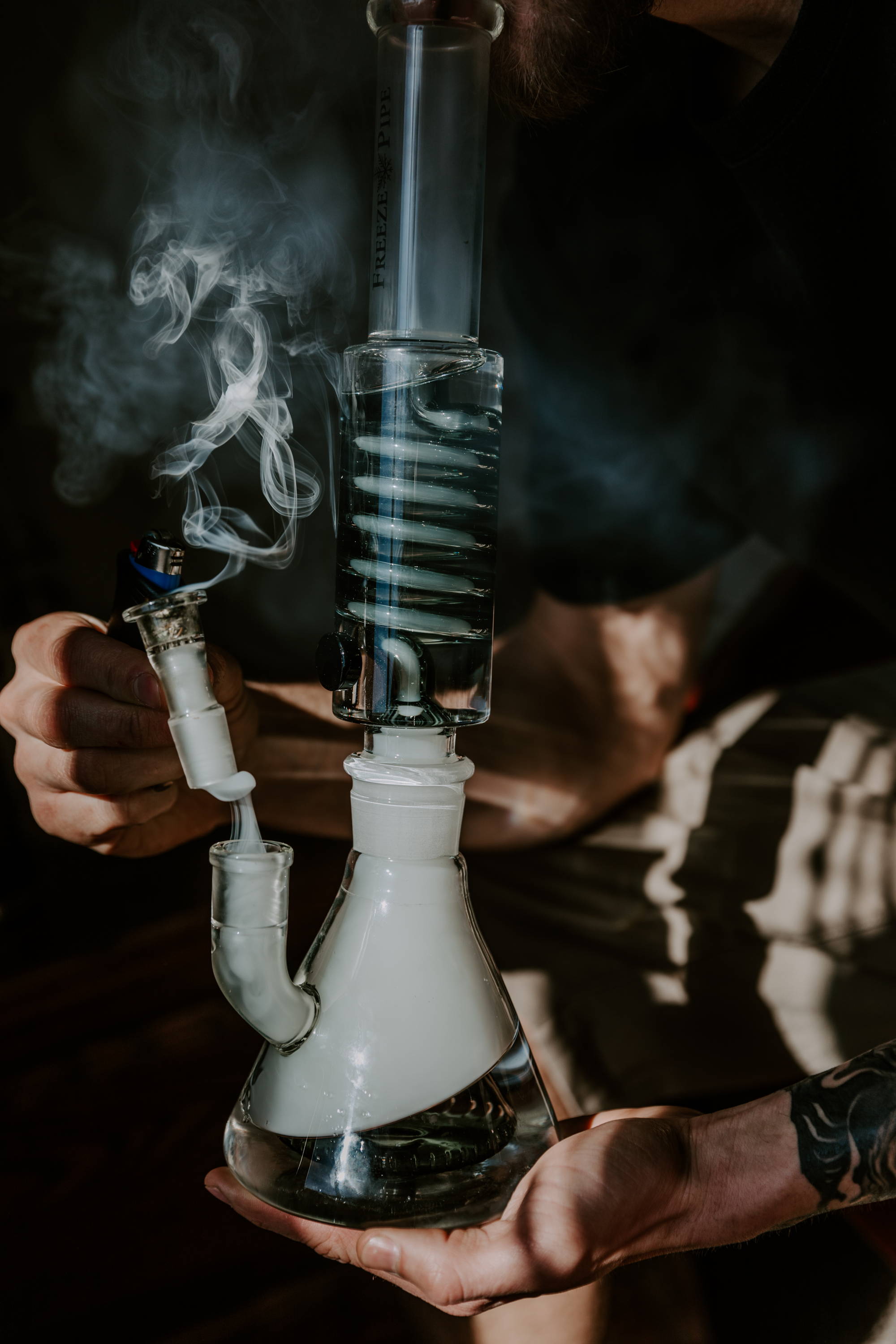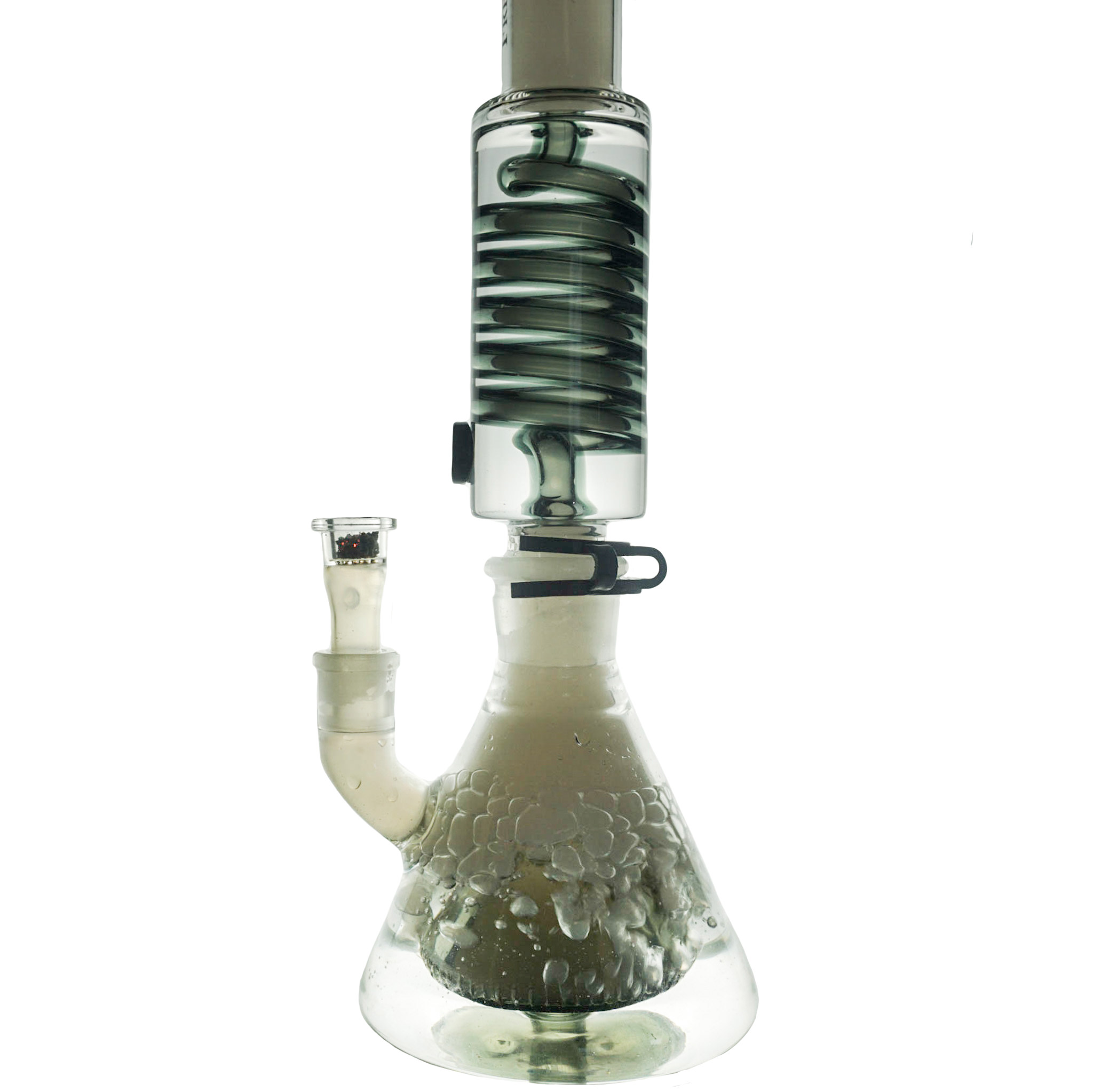 >
Freeze Pipe Bong XL $209.95
Our most popular selling water bong, this piece doubles the size of the regular bong's glycerin coil and features an upgraded base. Standing 16" tall, the Bong XL is easy to pass around while also making an excellent show piece. It'll be your go-to when smoking alone and a crowd favorite when friends are over. The base features a showerhead perc design and a 90 degree 18mm joint. We tested dozens of percolators and the showerhead was our favorite. Super smooth hits even if the glycerin coil isn't frozen, the Bong XL is a versatile piece that can do it all.
Stats:
$209.95
Upgraded Showerhead perc
16" tall
90 degree joint
18mm bowl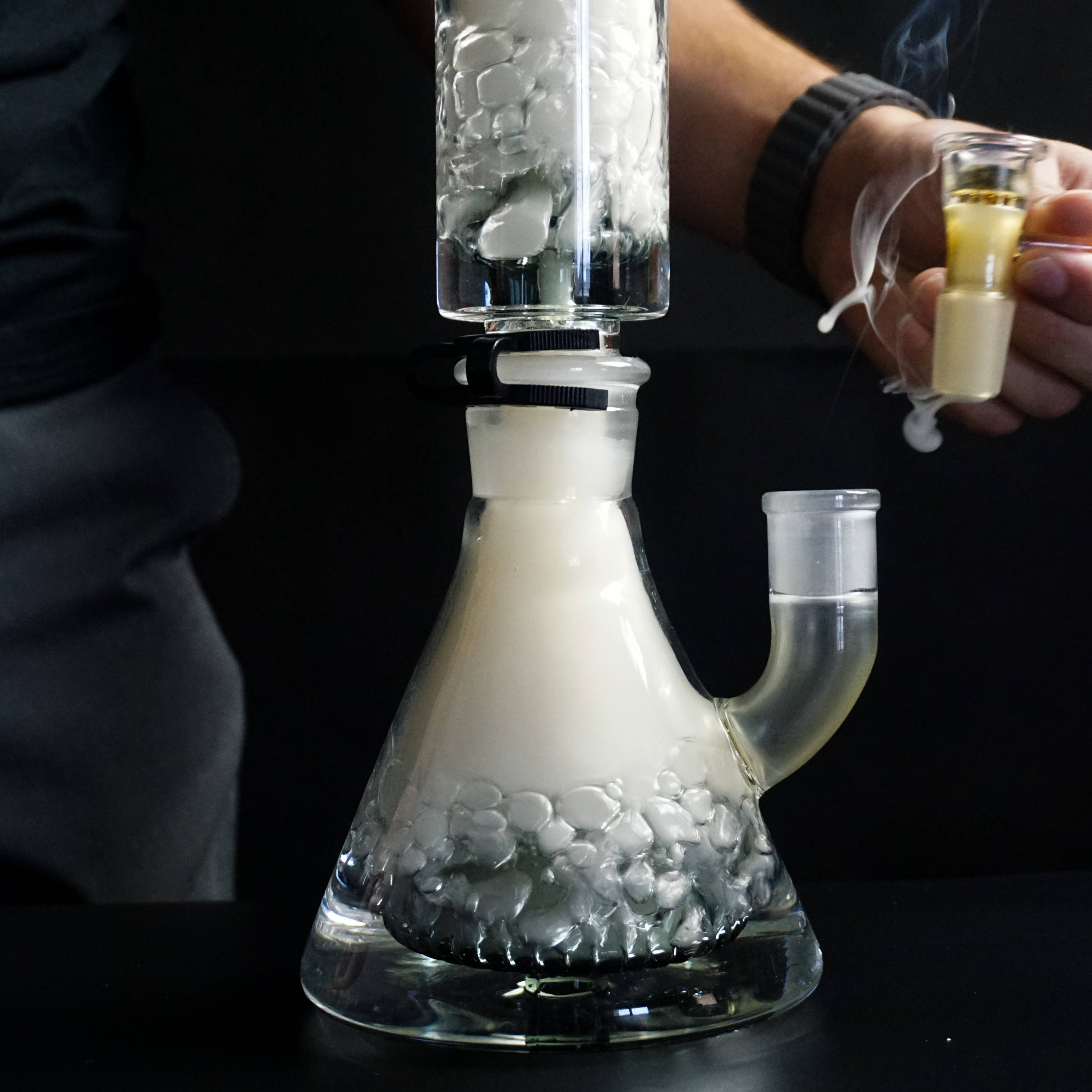 Freeze Pipe Bong Dual $259.95
Is your favorite movie Frozen? Does the thought of running sled dogs excite you? Is your uncle a Yeti? If you answered yes to any of the above, The Freeze Pipe Bong Dual is for you. The Dual features our unqiue Revolver glycerin coil which offers better air flow and easier cleaning than the traditional spiral coils. Further seperating the Dual (aside from the Revolver coil) is the added UFO middle perc. This extra perc sits between the bong's base and glycerin coil and adds another layer of filtration and smoothness. Inside the base is the same showerhead perc from the XL. The Dual is sure to be a hit at parties and is the largest piece Freeze Pipe makes at just under 23", while being a tad heavier than the XL.  We recommend using the included gift box packaging when on the go. Otherwise, this piece is perfectly suited for the solo connoisseur seeking unrivaled bong hits or showing off on the couch with a group of friends.
Stats:
$259.95
Unique Revolver glycerin coil
Added UFO middle perc
Upgraded Showerhead perc
13" tall
90 degree joint
18mm bowl
Freeze Pipe Recycler Dual $219.95
Another piece we've been selling for YEARS, if you had to pick one bong that could do it all, arguably this is it. Recycler bongs use continuous and circular water filtration to cool and cleanse smoke. The longer you pull the more smoke becomes filtered. Glycerin coil the Recycler uses the upgraded Revolver coil to enhance the air-flow even more and provide quicker cleaning. Smoothness wise the Recycler sits somewhere between the entry level and the Bong XL when smoking herb. Where it out performs everything is when it comes to dabbing. Recyclers were originally built for dabbing and this piece doesn't forget it's roots. Air-flow is at hurricane levels and hitting this thing is effortless. Enjoy a versatile piece that's stood the test of time.
Stats:
$219.95
Recycling water function
Inline perc
17" tall
90 degree joint
14mm bowl
---
Freeze Pipe - The Coldest Hits & The Smoothest Rips