Dab rigs are optimized for smoking concentrates, more so than traditional bongs or bubblers. Shopping for the best dab rig can be tricky as some aspects that make for a great flower bong do not make for a great dab rig. 
The best dab rigs are small, cool smoke, have recycling water function, and don't over-do the percolation. Freeze Pipe's glycerin cooling technology allows our dab rigs to produce cooler smoke without diluting flavor. Shop our pieces below or keep scrolling for everything dab-related!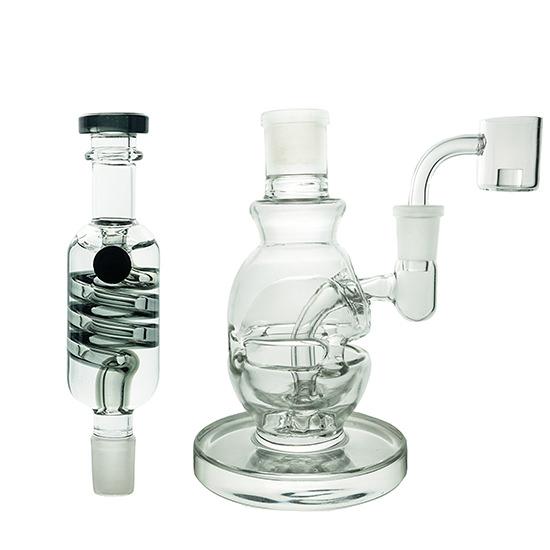 Mini Dab Rig
$159.95
- Enhanced Fab-Egg design
- Includes one glycerin coil & quartz banger
- Percolator
- 6" tall without coil glycerin coil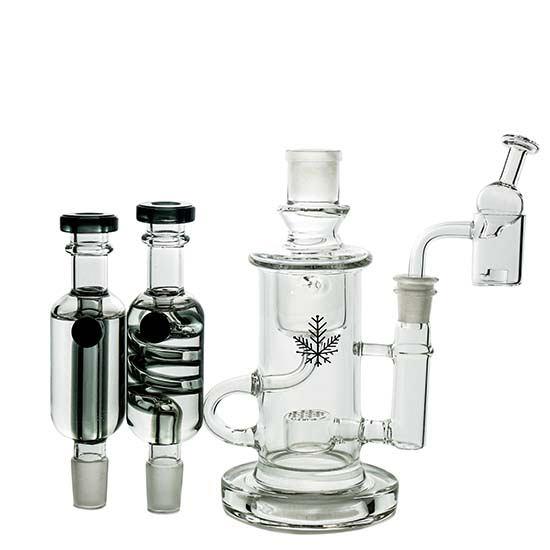 Klein Recycler
$299.95
- Our elite dab rig
- Includes two glycerin coils, quartz banger, carb cap, honeycomb bowl for flower
- Laser cut percolator for precise filtration
- Recycling water function
- 11" tall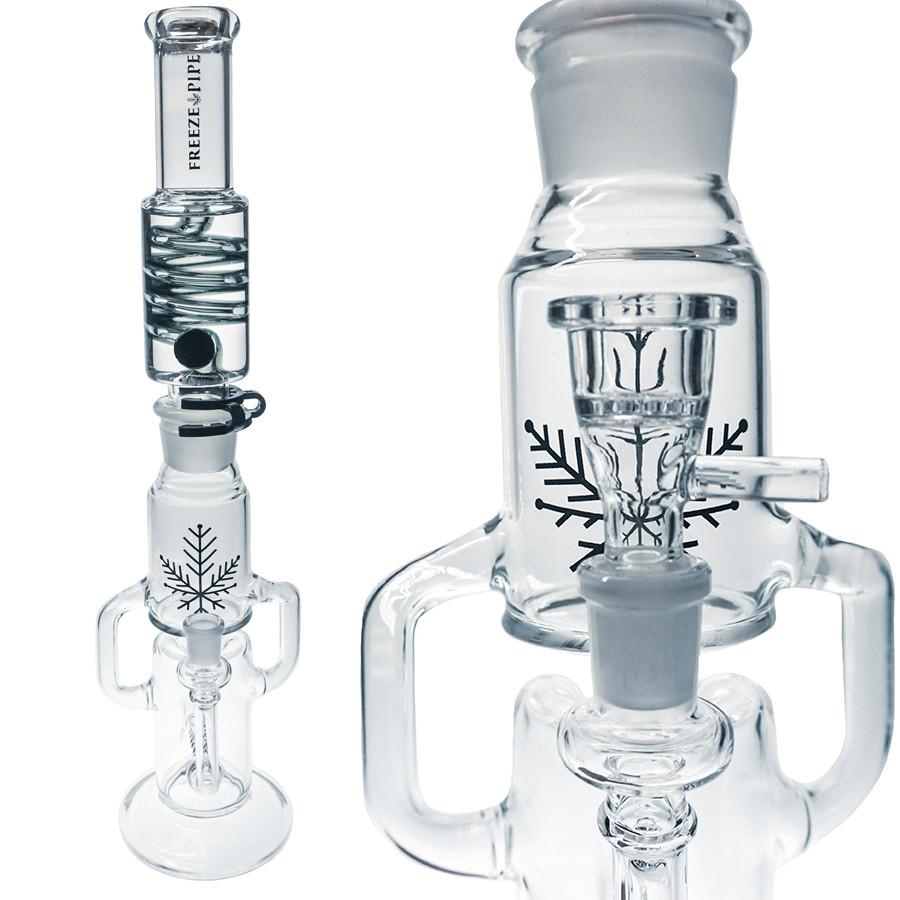 Recycler Bong
$209.95
- Versatility personified, excellent for flower and concentrates
- Inline perc
- Recycling water function
- 17" tall
If you want a piece solely for dabs / concentrates, then a nectar collector or Enail is the piece for you! 
Nectar collectors are used like giant glass honey straws. By heating the tip (typically with a butane torch) it becomes hot enough to vaporize concentrates. When this heated tip touches said concentrates smoke is put through our cooling system of water filtration and a frozen glycerin coil. The result is an out-of-this-world pleasant hit that's much larger and smoother than hits from traditional dab rigs. 
Enails attach to your dab rig and remove the need for a butane torch and quartz banger. Think an electronic version of nectar collectors. Simply use the LED screen to set your desired temperature, insert concentrates and attach to your dab rig. The Enail heats concentrates to the exact temperature and away you go. People love how fast and easy they are to use without sacrificing any taste. 
Every Freeze Pipe Dab Rig and Bong has the available Dab Kit option. Each Dab Kit includes an Enail and other accessories to smoke wax and oil like a pro. By far the most cost effective way to acquire a premium Enail, these bundles save serious money! 
How To Take The Perfect Dab
Co-founder Mike Talks Freeze Pipe Dab Rigs & More
Glass Dab Rigs; What To Look For
Cooling power without the flavor loss

The problem with most dab rigs is they can only cool smoke by using water filtration. Unlike traditional herb, concentrates need minimal filtration and lose flavor when diffused with water. This is where Freeze Pipe's glycerin cooling technology really shines. Our ability to cool smoke in a glycerin coil while not diluting flavor via too much water filtration creates a flavor packed hit showcasing the delicacies of every hit. 
Size matters
The name of the game is less stale air = more flavorful dab hits. While bigger bongs are preferable for combustible flower, concentrates operate differently. Dab rigs are smaller on purpose so there's less stale air inside the piece to interact and lessen the taste of the vapor. 
Air flow over everything
Dab rigs prioritize air flow which is why Recyclers are so popular when it comes to their build. Recyclers refer to a design that creates a constant circulation of smoke and water around the piece. This endless circulation creates better air flow and cooling power than traditional bongs. With zero drag from the Recycler's design the goal is you're able to clear the piece of all vapor in one hit, which leaves little time for stale air to ruin flavor. 
How To Decide Between Our Dab Rigs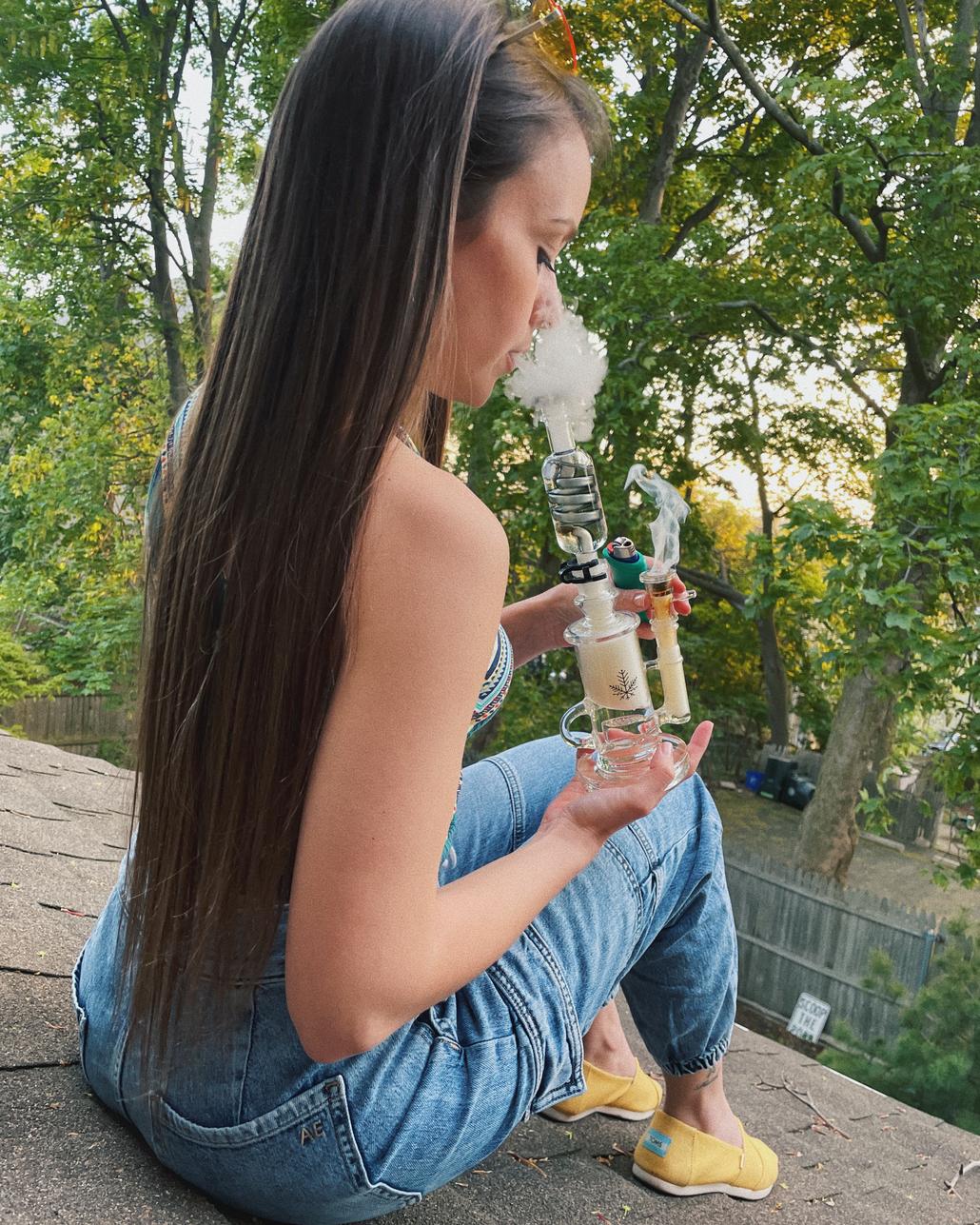 Klein Recycler:
Not just the best dab rig Freeze Pipe makes, but the best dab rig we've ever smoked. An elegantly simple 11 inch amalgamation of glass and functionality. It's great for concentrates, flower, or even CBD. The airflow and cooling power are incredible and the oversized base ensures it won't wiggle, wobble or tip over. It's easy to use and easier to maintain. This piece can do it all and comes with all the necessary tools to make that dream a reality. 
Noticeably smaller than the Recycler Bong (11" vs 17") and a tad more portable
Includes more accessories; Two glycerin coils, quartz banger, carb cap, honeycomb bowl. Whereas the Recycler Bong includes one glycerin coil and honeycomb bowl
Elite for concentrates, good for flower
Specs: Recycling water function, laser cut percolator, includes two glycerin coils, quartz banger, carb cap, honeycomb bowl for flower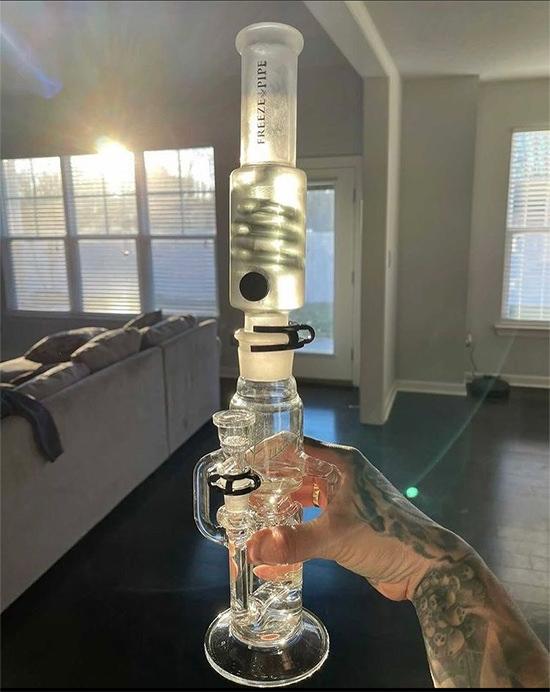 Recycler Bong
Outstanding value and more versatile than than the Klein. While not quite as good for dabbing as the Klein, it smokes flower better than the bong you're currently using. This is your utility piece that does everything at a high level. Compared to our bong family, only the Bong Dual provides a smoother experience when it comes to smoking flower. As for smoking concentrates, this piece kicks a lot of ass. Especially when you look at the MSRP. It's going to be a smoother dab rig than any piece around it's $210 price tag and have a clear advantage over it's dab rig peers as it relates to smoking flower. 
Specs: Recycling water function, Inline perc, large glycerin coil, honeycomb bowl 
Difference Between Dab Rigs and Bongs
Buying a dab rig vs a bong has a few fundamental differences. Shopping for dab rigs (especially online!) can be tricky because they're usually the same or even a bit higher priced than bongs are.
Smaller is usually better. This is probably the biggest difference between dab rigs and flower bongs. With flower bongs, bigger is always better. This is because flower vapor loses significantly less taste and potency while interacting with the stale air inside the piece. The goal is to maximize filtration and how long the smoke moves around inside the glass. For dab rigs, wax and oil can lose a noticeable amount of taste if put through too long of a smoking process. When dabbing, you want to inhale the vapor as quickly as possible to pick up on all the nuanced flavor. 
Recycling water function is important for both, and essential for dab rigs. Recyclers we're originally invented for the purposes of smoking concentrates. A big reason for this is their air flow, which facilitates being able to clear all the oil vapor in one pull. Clearing vapor in one pull minimizes the vapor's contact with stale air, which as we know, is suboptimal when it comes to dabbing. 
Don't overdue the water filtration on your dab rig. Dab rigs need some water filtration, let's not get it twisted. Water filtration is essential to cool smoke allowing for a smoother hit. While concentrates carry less carcinogens as smoke from flower, cleansing your smoke through some level of water filtration is always a good idea from a health perspective. Where it gets tricky is why you overdue the water filtration with perc heavy flower bongs. Putting your wax vapor through too much water filtration and you risk dampening the potency. Perc centric bongs usually are bigger and there's also the increased contact with stale air that was covered earlier. A general rule of thumb is dab rigs should have recycling water function with one or at most two different percolators.
Subcategories aside, there are three main types of dab rigs. Depending on your preference and smoking habits one style may be better suited for you than another.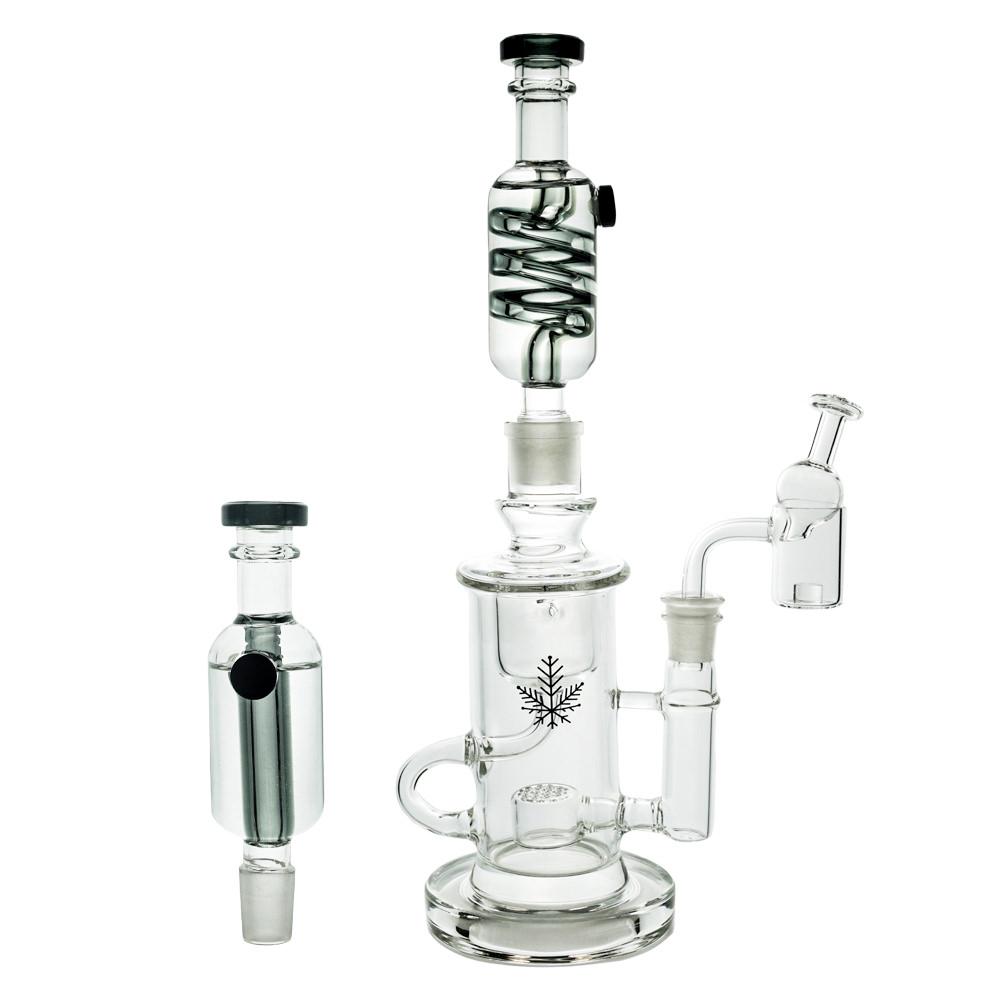 Glass Dab Rigs
The most common and our recommendation. While there are numerous sub-categories of glass dab rigs, there are a few worth pointing out. Mini rigs (think 5" tall or smaller) are usually made of glass and essentially just really short dab rigs.  Styles like the Fab Egg Dab Rig are popular for this mold. These mini rigs have fantastic taste but little smoke cooling power and you won't be able to pull monster rips. You then have recycler dab rigs, which we've spoken about a lot. Recycler dab rigs have the best function, air flow and design out of all the iterations.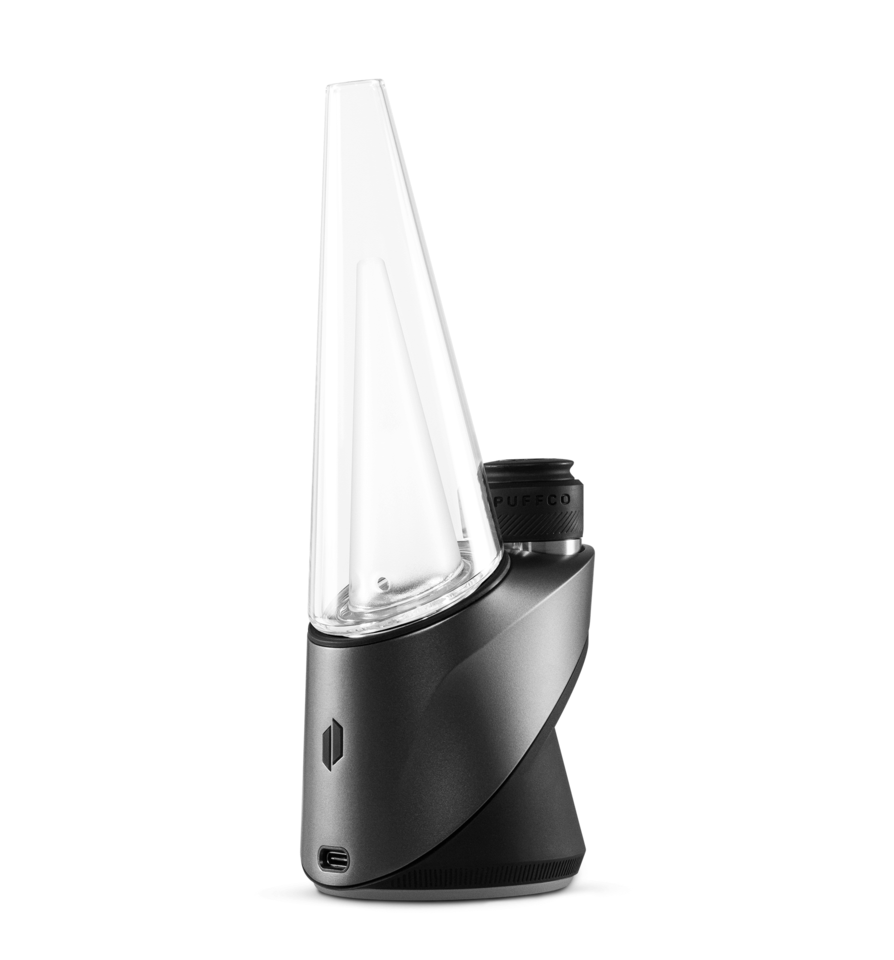 E-Rigs
These are your Puffco's of the world. Picture a portable Enail and a dab rig permanently stuck together. E-rigs have great taste and come with different levels of function and cooling power. When do right, they are awesome pieces. The downfall is that E-rigs get pricey quick and have a higher defect rate than ole fashioned glass and butane torch. They're also a bitch to clean. You can set the exact temperature of your dabs which is a huge plus and get a lot of insight into your smoking experience, but do remember you can only smoke concentrates from them and the battery must be charged or you SOL. We recommend buying an Enail for your glass dab rig. They're a cost effective solution that does the exact same thing as an E-rig. Plus by investing in a glass rig you have the option of smoking flower out of it if you wanted.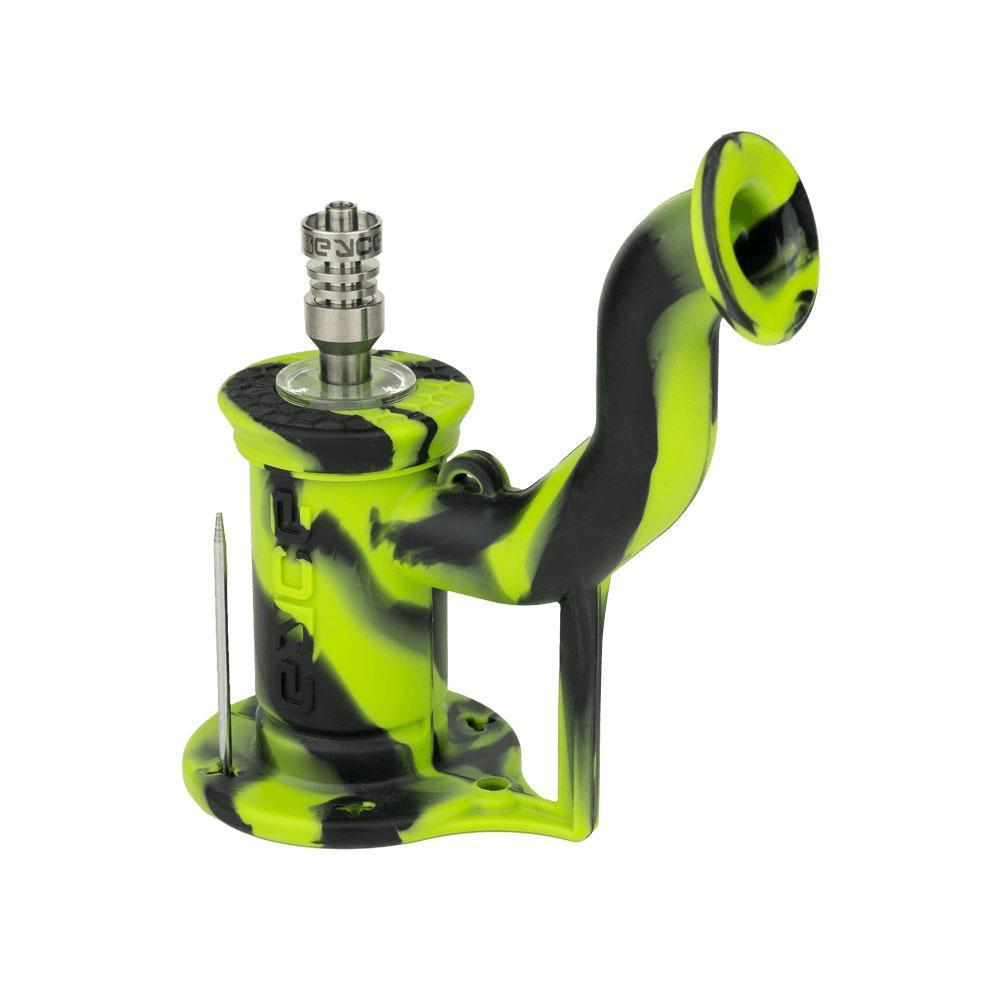 Silicone Dab Rigs
Frankly, we're not fan of silicone dab rigs or bongs. Yes, they are extremely sturdy and assuming you get yours from a reputable company, smoking from silicone can be safe. But it's still a risk you take. Beyond safety, silicon dab rigs flat out don't offer the same level or taste or percolation a glass dab rig will. The taste you get from silicon dab rigs is a generic, bland flavor that makes it impossible to notice the effort that goes into making unique concentrate. Due to percolation and dab rig design, a silicone piece will never be able to match a glass piece's smoothness or cooling power. You get what you pay for and given how often and the repercussions that can come from using a faulty dab rig, we don't recommend  skimping for a cheap silicone piece. 
Quartz Banger

Quartz is a type of crystal that has a higher heat resistance than traditional glass. While glass is perfectly fine to handle flames from your lighter, when you get into sustained heat from a butane torch, different material is needed and the go-to in the dab rig industry is quartz. A quartz banger is where you place the wax or oil and then heat said quartz to start the burning process. Quartz bangers, like flower bowls, come in different styles which offer various advantages and disadvantages.
Freeze Pipe has endorsed, and uses a core reactor quartz banger with our dab rigs. The core reactor is the hockey puck looking thing at the bottom of the banger. The biggest reason why we went with this style is heat retention. Having a quartz banger retain heat offers the ability to take lower temperature dabs and provides an overall smoother experience with easier cleaning.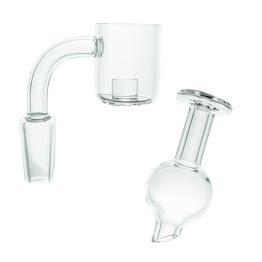 Carb Caps

Carb caps sit on top of the quartz banger and act as the lid to your oven. Sure, you can use a dab rig without a carb cap, but you'd be doing yourself a disservice. Carb caps improve functionality, airflow and heat retention for your dab rig. Like quartz bangers, carb caps come in different styles with varying degrees
We use what's called a functional carb cap, meaning you rotate the cap around as inhaling. This does wonders for function and really gets the wax or oil burning smoothly and evenly. Furthermore, functional carb caps pair perfectly with core reactor quartz banger. The two make a deadly dab rig stack that's hard to replicate in smoothness and efficiency. 
Enails

Think of Enails as an electronic version of a quartz banger and carb cap. They attach to your dab rig and take the guess work out of what temperature and when should I take hit this dab. Enails are portable, wireless and feature a rechargeable battery. 
Our Enail comes with a quartz dish to maximize flavor and is a must-have for wax and oil fans. They're less of a hassle than bangers and can fit most dab rigs. 
Analog Enails, sometimes called Enail Kits
An older, prehistoric version of the portable Enail, these wire based Enail kits must be plugged into the wall and feature a heating box and typically metal wiring that wraps around the quartz banger. The heating box then charges the metal wire to heat the banger and your dab rig is now ready to be used. 
We do not recommend this outdated method of using a dab rig. It's an outdated technology that presents unnecessary risks, stress, and lacks portability. 
Shopping For Dab Rigs Online Conclusion
Buying a dab rig online doesn't have to be dreadful. In fact, if you come to a reputable online smoke shop like Freeze Pipe it's much easier and fruitful than going to your local headshop. We've spent years developing our dab rigs and put quality over everything. Since Freeze Pipe is the manufacturer we cut out the middleman to save you every penny possible. 
If you're an experienced dab rig fan and looking for the best of the best we recommend the Klein Recycler.  It smokes concentrates like a dream and is pretty damn good for flower. With that said, the recycler bong would be our recommendation for someone who wants a dope dab rig, but is also looking for a piece that can heavily be used for flower. As unbiased as we can be, the Klein for concentrates is a 10/10 and 7/10 for flower. The Recycler Bong is a 7/10 for concentrates and a 8/10 for flower. 
If there's anything we can do to help you in your dab rig purchasing journey, please let us know at customerservice@thefreezepipe.com and we will be happy to help! 
All content at Freeze Pipe is for educational, tobacco, herbs and entertainment purposes ONLY. This website is for mature audiences only. We strongly encourage those users under 21 years of age to EXIT this site immediately. We do not condone the use of illegal substances.
The Website is provided on an "as is" and "as available" basis. 
Freeze Pipe makes no representations or endorsement about the
suitability, timeliness or accuracy of the Website.
All companies, pipes, wraps, uncategorized products, service providers and other entities referenced, products, names, labels etc within theFreezepipe.com are intended for legal tobacco/smoking mixture, entertainment, educational and to be used by adults (21 years or older) only. Any other use of such products, by minors or for use with controlled substances is prohibited and may constitute a violation of International, Federal, State, and/or Local laws